A Versatile Garden Room Office & Storage Space: A Custom Fit-Out Case Study
Our customer approached us with a vision for a multi-functional garden room that would serve as both a home office and storage space.
They wanted to maximise the utility of their 22′ x 8′ garden building while maintaining a comfortable, insulated environment.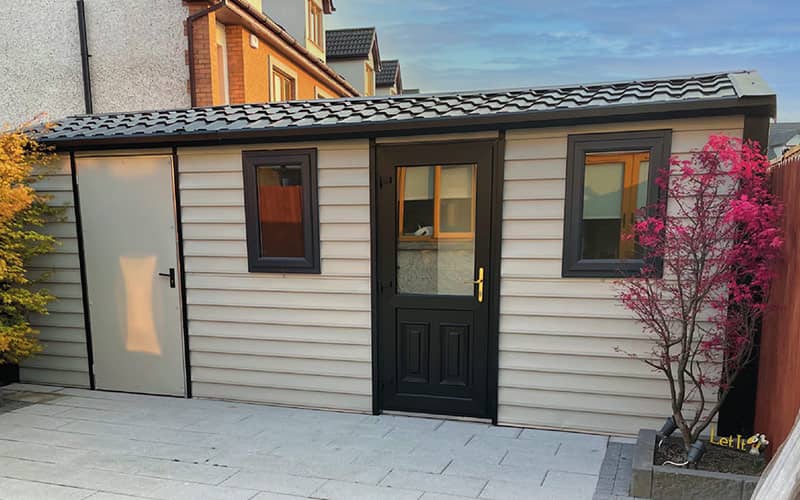 With their specific requirements in mind, we developed a custom fit-out solution that transformed their garden room into a versatile and efficient workspace and storage area.
The first step in the process was to install 40mm insulation throughout the building, ensuring optimal thermal performance for year-round comfort. We then incorporated a wooden floor, further enhancing the room's warmth and inviting atmosphere.
To create the desired dual-purpose space, we installed a custom room divider, separating the office area from the storage section. The office portion features a door flanked by two windows, allowing for ample natural light and easy access, while the storage section is equipped with an insulated shed door for secure storage of equipment and belongings.
The exterior of the garden room showcases our ever-popular goosewing grey finish, accented by black gutters and downpipes for a sleek, modern look. The combination of functional design elements, tailored fit-out options, and stylish aesthetics resulted in a truly personalized space that meets our client's unique needs for both work and storage. This case study demonstrates the versatility and adaptability of our custom fit-outs, enabling clients to create garden spaces that truly reflect their individual requirements and preferences.
Have a look at the finished project gallery below
Quality Fit-Outs Tailored to Your Needs
Our fit-out services are designed to ensure that your garden shed, room, or building is not only functional but also a true reflection of your personal style and preferences. Whether you need a space for relaxation, hobbies, or work, our comprehensive fit-out options will enable you to create an environment that is comfortable, practical, and tailored to your unique needs.
Expert Installation and Guidance
At Urban Garden Sheds, our team of experienced professionals is here to guide you through the fit-out process. We will help you choose the most suitable options for your specific requirements and ensure that your garden space is fitted out to the highest standards, providing you with a durable and reliable structure for years to come!
Start Your Garden Room Journey Today
We offer a nationwide service
Are you ready to elevate your outdoor space with a bespoke garden room in Ireland?
Together, we'll create a garden room that perfectly captures your vision and enhances your lifestyle.
Contact our friendly team at Urban Garden Sheds to discuss your ideas and receive a personalised quote.